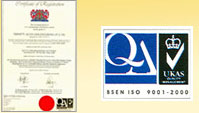 Rubber Metal Bonded Bushes
We offer Rubber Metal Bonded Bushes, employed for assorted functional requirements in different applications in static as well as dynamic conditions. Featured with physical as well as chemical bonding strength, these can stand firm in assorted kinds of shocks, protection and vibration. Provided with precocious tensile strength, superior endurance, supreme functionality, these bushes offer resistance against inauspicious conditions. The bushes are utilized for the isolation of vibration as well as noise in automotive and engineering utilization. Employing the most precocious technologies, evolved procedures, offered Rubber Metal Bonded Bushes can present advanced quality solutions to our customers.

Key Points :

Widely applicable in automotive industry on account of their superior performance.
Abrasion & heat resistant, perturbation-free and noiseless operation.
Offered with optimal tensile strength and sturdy designs.
Have control ob vibrations and shock, corrosion-resistant.